A Boat or shore dive which starts with entrance into a rock pool descending to 5 metres. There is an arched exit out to the cliff face which leads to a fresh and salt water grotto. Here you can encounter shimmering where the 2 meet. The fresh water comes from the Underground River called The Moraig which was explored by German cave diver's .A scenic dive more than a fish dive.
Minimum Qualification: Advanced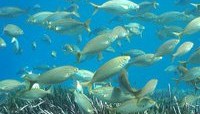 The base of Big Mushroom is home to several Moray eels and the and shoals of Bream. Also at this site is Conger cave, a narrow tunnel that house 2 giant Conger eels. Not for the faint hearted.
Minimum Qualification: Open Water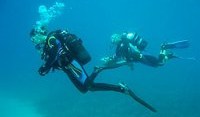 On the Cap Dór are 3 cavettes in a row. Inside these are cardinal fish, scorpion fish, sea stars and octopus. Great dive for underwater photography. This dive is done as a one way drift with the boat following and ends up at Mushroom rock bay a shallow bay at 6 metres–perfect for nosing around as the water here is very clear. Maximum depth 12 metres.
Minimum Qualification: Open Water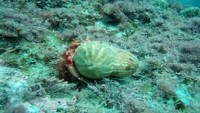 A Unique site that boasts amazing maze like rock formations. The area is more like an aquarium with lots of small brightly coloured fish.
Minimum Qualification: Open Water